Post by looking4justice on Jul 18, 2018 16:42:04 GMT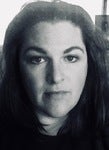 Hi looking4justice...
I zoomed in, enlarged got a magnifying glass and looked at this exit hole . I wish I could digitally enhance it. I guess it is shadows around the perimeter but they make it appear the metal is indented, not blown out.
However, the raggedness of the hole indicates it is an exit hole and very likely from a high speed hollow point round. The expansion of the hollow point is what leads to the greater diameter. A .357 projectile (the actual bullet diameter a .38 Special round) can easily expand to .60.
The disparity between the two stories, one written contemporaneously and one in 2017 is interesting...the old stories talk of a a "high caliber weapon" possibly a sniper, but the 2017 story states it was a .38 caliber revolver. I am sure the 2017 story benefits from forensic analysis not available just after the crime. The stories also appear to disagree on the number of rounds fired.
It would appear the assailant fired at least 3 rounds, one in each victim and the one on the photo. I think the pictured exit hole was made by a round that missed the intended target. The height of this hole is interesting. Was the victim targeted starting to rise in their seat and the assailant really really wanted head shots? Very possible. It is hard to tell angle, but if JJD got into a crouch to fire- the missed round would angle up. Firing from a crouch was commonly taught to LE then. Indeed the only photo of Carol Daly with a weapon that I am aware of shows her in a crouch.
My thinking is, this could possibly have been a Super Vel round from a 4" or 6" duty weapon. That very hot round was just below .357 magnum power level and would easily penetrate the sheetmetal.
Other thoughts...this was a pretty remote area in 1977. So what was the need to execute the two?
Well if JJD were in uniform....big need to execute.
This was just two week after the Ripon Court shooting 2.16.77. EAR had a small hiatus from that shooting to attack #14 on March 8th. That attack involved a first, sustained physical torture. EAR was allowing greater expression of his sadism. The next attack involved an ax, and then shortly, a couple. So a sudden eruption of lethal violence is not surprising.
Good work...I think this could be JJD
Oh BTW, did you e-mail Cathy Locke, author of the Sac article?
Good morning oldguy! Great thoughts on this and I really appreciate your ballistics impression. You know it is very uncanny-but I had the exact same vision of the perp taking the knee to aim for headshots, as you said a classic LE firing position, it's hard to not put JJD's face on this. There is another photo in my links above that show the position of the PG&E vehicle when it was found and the photo appears to have been taken from a high position of the driveway looking down towards the road where the vehicle was stopped in a drainage rut, apparently it had already been put in drive when the shots were fired, and with a higher ground position of the driveway, a knee position would have been the most accurate given the movement of the truck.
With nick's permission I did email Cathy Locke. As luck would have it the day I contacted her was her last day of work, she was retiring. Anyways she got me in contact with her successor, I have his email and I gave it to nick so he could fill out some blanks. I'm not sure whether or not nick got a chance to talk with him because it all happened right when nick started having some big personal events. I will follow up with the reporter and ask him if he got in touch with LE about this case. I agree that JJD is REALLY good for this. If Sac LE found guns at JJD's house perhaps a striation comparison could be possible.