Post by pseudio on Jul 5, 2020 8:15:52 GMT
Hello all.
I have come across some interesting newspaper articles/clippings from Novata, CA in 1959 and 1960 that I would like to share. Please forgive the terrible use of snippet screen shots and "optical character recognition" transcripts, I am too broke for a newspapers.com subscription.
I was encouraged as to their
potential
relevance by
murderinc
's
thread
and the linked blog post about the Floyd Coggin murder and other incidents around that time. In particular I was encouraged because of the articles regarding peeping and prowling incidents in Novato in 1960.
The first article is from July 30th, 1959 and describes a "scantily dressed" prowler and peeping tom, which caught my eye.
Prowler Peers Into Novato Home
A peeping Tom, dressed in a T shirt or a sweat shirt and shorts, peered into a Novato bathroom about 1 a.m. yesterday, then fled toward Highway 101. Mrs. J. W. Huffaker of 1240 Yukon Way said she was taking a shower before retiring when she heard a scratching on the window. She looked up and saw the outline of a man's head. She called out to her husband, who spotted the man standing in the yard, scantily dressed. The prowler ran out of the rear yard gate. Sheriffs deputies arrived but found no trace of the prowler.
(I have tidied up the OCR transcript ever so slightly, but you can read the original OCR transcript of the article for yourself
here
).
From what I recall, at the time of this incident, JJD Sr would have just been transferred from Hamilton AFB in Marin County (specifically in/right next to Novato?) to Mather AFB up in Sacramento approximately one month earlier.
The second article is from Tuesday the 29th of November, 1960 and describes a prowler and peeping tom on the exact same street as the first article, on the same side of the street, three houses away—only this time, the prowler is
caught
. It doesn't say how.
Boy, 15, Caught After Peeping In Novato Window
A 15-year-old peeping Tom, caught peering into a Novato home last night, outran the irate father of the house but was later apprehended. Louis F. Minor, 26, construction foreman, of 1220 Yukon Way, told Deputy Sheriff Robert J. di Grazia that his 4-year-old daughter was being prepared for bed by her grandmother. The girl saw the youth looking into the window, and the grandmother turned around just in time to see him running away. Minor ran after the prowler but lost him. But the boy was apprehended, and his parents said they would restrict him, and have him examined by a psychiatrist.
(Again, you can read the OCR transcript of the article yourself
here
).
JJD would have turned 15 on the 8th of November 1960, right?
The locations of these two Yukon Way houses in Novato is interesting. Here is an overview of their location in relation to the location of the (no longer in existence) Hamilton AFB, according the coordinates given by its wikipedia page (you can see where I sourced those coordinates for yourself
here
) -
The blue line I have drawn on the image above is to highlight that section of Novato Creek.
Here is a closer view of the two homes in relation to Novato Creek -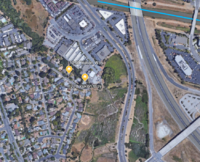 I do not know if the buildings to the north of Yukon Way, which are commercial or industrial rather than residential, were there in 1960 or not. As you can see, to run "toward Highway 101" from Yukon Way, as described in the first article, would also be to run toward Novato Creek.
Finally, here is a close up on the two homes location -
If the commercial/residential area weren't built in 1960, did these homes both back directly onto a field or nature area and the creek? I found the location interesting.
If JJD's parents were alive we could have asked them if this was him. His siblings may remember, if they knew about the incident at the time. I don't know if there would be any records of this incident, considering the 15 year old was a minor and it doesn't sound like authorities did much about it at the time—handing him over to his parents with a stern warning perhaps, and his parents claiming that they would take him to be evaluated by a psychiatrist. Who knows if that ever happened with whoever this 15 year old boy was. One thought I had was, could that be the origin of the mad is the word essay? As 'assignment' given by a psychiatrist to a fifteen year old, who writes it in the same exercise book he uses to write his homework about Custer? I mean, it is a stretch. It is a stretch to also think JJD would have kept that for the next 18 years or however long it was. But it isn't impossible.
Anyhow, while there
might
be a record of this incident in some box in some corner of an office somewhere, I am not in the US so I don't know if I could find or access it even if it did exist. Perhaps it would still be possible to speak with the people who were victims of these prowling incidents, or their children, or others on the street who recall something from the time.
I am very keen to hear everyone's thoughts.